vISIT

sTRATEGIC mOBILITY GROUP

AT

PROMAT
Chicago's McCormick Place
April 8-11, 2019
Booth #S343 and #S4268
Visit Strategic Mobility Group (SMG3) at ProMat 2019 and learn more about the latest enterprise mobility solutions. Whether your business is in manufacturing, T&L, or field mobility, SMG3's tailored services are guaranteed to make your business more efficient.
Schedule a Meeting With SMG3 at Promat 2019

Visit our Booth #S343 and #S4268 to learn more about how business mobile technology can benefit your business and improve efficiency, satisfaction, accuracy and sales. SMG3 will be providing in booth demos to assist you in achieving these goals and more!
MANUFACTURING
With SMG3's analytics driven manufacturing, you will experience optimization of every process and real-time insight for an efficient plant floor. With our expertise and most comprehensive toolkit you will be in control of your facility.
You will experience:
Asset and Operational Traceablility

Sensor Tagging to Isolate Inefficiencies and Disruptions

Seamless Network Connection and Barcode Tracking

MOBILITY DNA
At SMG3, we are the Mobility DNA experts for Android. If your business is still running on Windows, you need to prepare for the end of Microsoft support. The genetic code in Mobility DNA computers gives them distinct enterprise capabilities.
You will experience:
Business Tools Including Workforce Connect and SmartDEX

Management Tools Including Lifeguard for Android and Device Tracker

Development Tools Including MX Extensions and Enterprise Browser

SMG3 EDGE
SMG3 Edge was designed to provide our customers with performance focused lifecycle management and world class customer service. Edge is a centralized mobile asset management portal, where you can easily access your orders with product and service information.
You will experience:
Improved Efficiency with Customer Reporting

Progressive Lead Times and Delivery Analytics

Comprehensive Manufacturer Data and OS Updates

When you visit either one of our 2 booths - #S343 and #S4268, you will:
Be able to speak with one of our knowledgeable mobility experts about how SMG3 can benefit your business

Get hands-on demos of the latest devices from brands like Zebra, Honeywell, and more

Network with professionals at Booth #S343 and #S4268, as well as on the show floor

Participate in the largest expo for manufacturing and supply chain professionals in North and South America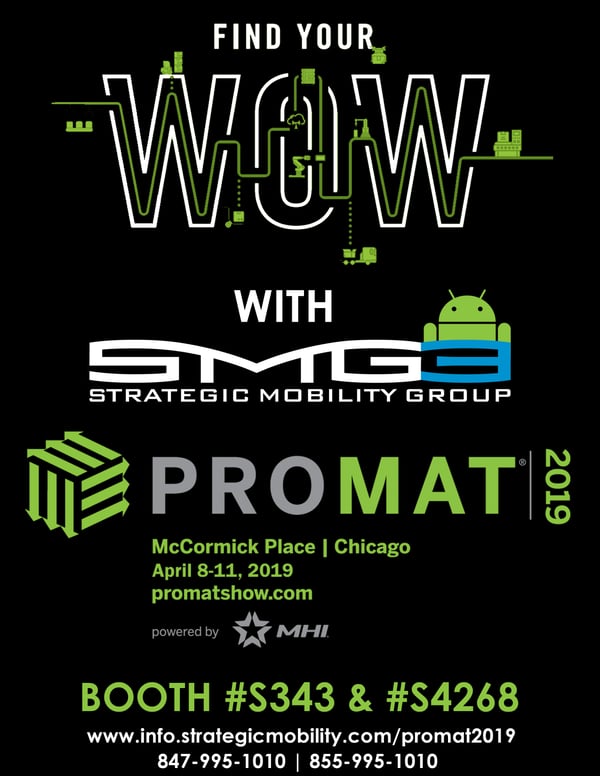 SMG3 is more than just scanners, printers, and mobile computers. We are a total solutions provider including hardware, software, and wireless installation that is customized for each business we work with. The SMG3 Experience will be on display at ProMat 2019, so stop by Booth #S343 and #S4268 to find out how we can benefit your business.
Show Exhibit Hours:
Monday, April 8: 10:00 AM - 5:00 PM
Tuesday, April 9: 10:00 AM - 5:00 PM
Wednesday, April 10: 10:00 AM - 5:00 PM
Thursday, April 11: 10:00 AM - 3:00 PM